Beauty really is skin deep. The depths of your skin beneath all those layers is the foundation for your beauty. 
Skin
 is one of the largest organs of the body. Because of this, 
caring
 for your 
skin
 can directly affect your overall health. This is why it is necessary to keep your skin to the top of the daily to-do-list.
It's affected by more factors than you may think. For instance, the following can play a role in your overall skin health:
exposure to UV radiation in tanning beds
exposure to chemical toxins in tobacco
unprotected sun exposure for long periods of time
not getting enough rest, fluids, or nutrition
aging
  I, (Ayasha of Fashion Ayasha) cannot express to you enough the importance of skincare. I am approaching 43 years of age so I take skincare very seriously.
  When it comes to beauty, your foundation of it all is essential skincare. Often times people will state that my skin is so healthy and young-looking. They ask how I keep my skin beautiful, youthful, and healthy. The answer is routine skincare. All women want to find ways to prevent aging. 
  Y
ou may feel like you can skip out on picking up a facial cleanser and washing your face from time to time, it's a good idea to stay consistent with your skincare routine—and that includes cleansing. Throughout the day and night, excess oils, dirt, and impurities can build up on the surface of your skin—and if you don't wash these off, they can clog your pores, which can lead to breakouts and severe skin problems
.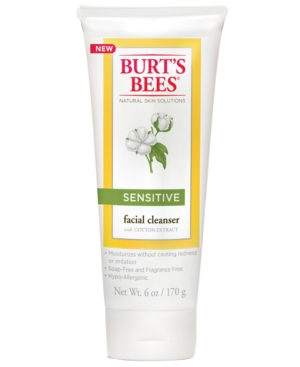 Burt's Bees Sensitive Facial Cleanser
is clinically proven to moisturize sensitive skin while gently cleansing away dirt, oil, and make-up while Sensitive Daily Moisturizing Cream, Eye Cream, and Night Cream are clinically proven to moisturize sensitive skin all without causing redness or irritation. 
Although, it's best to wash twice daily; at times I will wash my face three times a day. Then I follow up with a good moisturizer.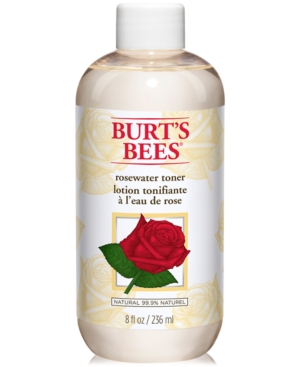 Applying a
skin toner
is also crucial to good skincare. Toner simultaneously cleanses, moisturizes, shrinks pores, balances your skin's pH, and adds a layer of protection against impurities. When adding toner to your daily skincare regimen, make sure to apply it between cleansing and moisturizing. Use a cotton pad to gently spread toner over your face and neck.
Burt's Bees Rosewater Toner is made with rose extract, glycerin and aloe to gently remove lingering traces of cleanser and any trapped dirt, oil and makeup. This botanical blend of cleansing and softening ingredients gently cleans and tones your skin, leaving it feeling naturally clean and refreshed. It's 99.9% natural and is gentle enough to use every day. To help maximize the benefits of your moisturizer, apply Rosewater Toner after cleansing and prior to applying your favorite face cream or moisturizer.
Infused with rosewater, glycerin and aloe
Removes lingering traces of dirt, oil and makeup
Leaves skin feeling naturally refreshed
How to use:
After cleansing and/or exfoliating, moisten a cotton pad with skin toner and apply to face and neck using upward movements, avoiding the eye area
Apply face treatment daily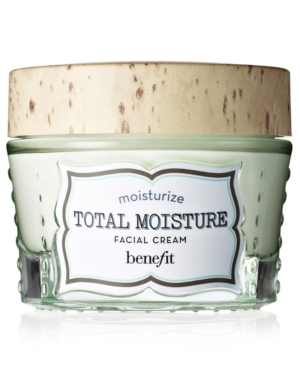 Say good-bye to dry skin and hello to "
total moisture
". This awesome
facial cream
provides concentrated immediate & long-term hydration for an ultra radiant complexion. Contains exclusive tri-radiance complex to help develop the skin's reserves of water & reinforce skin's moisture barrier for a radiantly refreshed complexion. For normal to dry skin. 
    Learn how to make a "
Homemade Face Scrub for Soft, Youthful Glowing Skin
." Exfoliating the face is a vital part of a woman's beauty. If you practice a regimen of p
roper 
exfoliation
 you will find that it removes the barrier of dead skin cells clogging the skin and uncovers fresh new cells below. Utilizing natural ways of making your own face scrubs is beneficial to your skin. The dead skin cells you are intending to remove by exfoliating do not need to be exposed to chemical-based products, especially if you suffer from acne. Chemical-based products are known for irritating acne and causing more skin irritation. 
 Exfoliating on a regular schedule is essential because it gets rid of old dry dead cells leaving the skin much smoother, younger-looking, and glowing. 
I hesitate to put chemical-laden products on my face. Making homemade beauty scrubs and masks are something I enjoy doing. It provides me with a connection to nature more and I appreciate things that are grown like lemons, sugar cane, and things such as raw honey which is produced by the bees. Exfoliating the face also opens the deep pores of your skin up to receive proper moisturizing. 
  One of the best-known ways to cleanse the facial skin pores is by using a
spa facial treatment
on your face. It is not recommended for you to steam your face each day if you are acne-prone because this can dry your
face
out and make your acne even worse. Limit your steaming to once every week, or every other week, depending on your skin type.
 The Benefits of a Face Steamer are unbelievable. When I was younger (around 16 to 24), I used a face steamer a few times a week. Knowing what I know now at 42, I wished I would have kept using the face steamer. There are so many benefits to using a face steamer. A facial steamer makes your skincare routine more effective. Think of giving yourself the spa treatment at least once a week as the foundation for building great skin. Really, that is exactly what it is. Before you apply anything to your clean, your pores need to be cleaned out.
  A
facial steamer
is a device which uses warm steam to cleanse your pores. When used on a regular basis this can prevent acne while also helping to cure it. I began suffering from acne in my later years. It is then I began thinking more about ways to improve my skin. I use different techniques to improve the skin and this is one of them. This premium face steamer makes it easier for extractions and removing blackheads and dirt. The soothing steam opens pores help remove dirt, nasty bacteria, and makeup residue. 
Regularly applying warm steam to the face is a truly beneficial beauty regimen every woman should do. The cost of a facial steamer is a reasonable cost compared to actual spa treatment costs. Facial steaming treatments on a regular basis will keep moisture balanced in the skin, reduce wrinkles and leave the skin radiant and glowing. 
Back to basics never looked better with this Makeup Artist Makeup is Art T-Shirt. This best-selling women's tee by American Apparel is a versatile must-have for every lady's wardrobe. Wear it to work or play, or dress it up with a blazer or sweater and wear it out to dinner. Super soft and lightweight.
Size & Fit
Model is 5'7" and is wearing a small
Slim fit
Runs small; order 1-2 sizes larger for a looser fit
Fabric & Care
100% Fine Jersey cotton construction (Heather Grey contains 10% Polyester)
Durable rib neckband
Machine wash cold
Made in the USA